Cast
In order of appearance:
S. Casper Wong
Dr. Lisa Mullany
Dr. Omer Aras
Francis Nutter III "Charlie"
Betsy Casey
Martha Stromme
Roxanne Camara
Mary Lou Hurley
Dr. John Thanassi
Dr. Tommy Yung-Chi Cheng
Dr. Horace Loh
Bios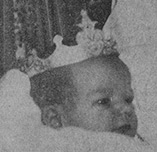 Dr. Louise Nutter "LuLu"
Dr. Louise Nutter was born on November 4, 1957 in Rutland, Vermont, where she was crowned "Princess Louise" by the local insurance association. (See photo). The middle of seven children, she grew up on a small farm where she was known as "the bull." Her family and close friends called her LuLu, a name that was partly inspired by the cartoon "Little LuLu" – a character who is "prone to mischief, but often saves the day." LuLu started smoking when she was 13 on a dare, and started drinking much younger than that, taking sips from the half emptied beer cans in the house. She butchered cows and helped built fences and dug a pond on the farm where her mother taught all the children how to swim. A hardscrabble childhood, LuLu began to work and cleaned the house of a rich lady in town when she was 13.
At 15, she was enrolled in the University of Vermont, majoring in biochemistry and psychology, and continued on to earn a Ph.D. in biochemistry in a record 3.5 years. She was a post doc at the University of North Carolina, Chapel Hill, in Tommy Yung-Chi Cheng's lab. Not yet 30, she spent 3 year in Taiwan establishing a brand new cancer research institute at their national think tank, Academia Sinica.
Upon return to the US, she became a tenured professor of Pharmacology at the University of Minnesota. LuLu was a prolific author of scientific papers on research in biochemistry, cancer and drug development. She chaired one of the nation's largest grants for breast cancer research, administered by the US Army, for 5 years running, deciding on what research to fund. Her inventions include the compound HHC, or hexahydrocolupulone, with anti-cancer and anti-bacteria properties. She died on May 29, 2001, at the age of 43. LuLu was a beloved professor, colleague and friend to many; scholarships have been established in her name at the University of Vermont and the University Minnesota.